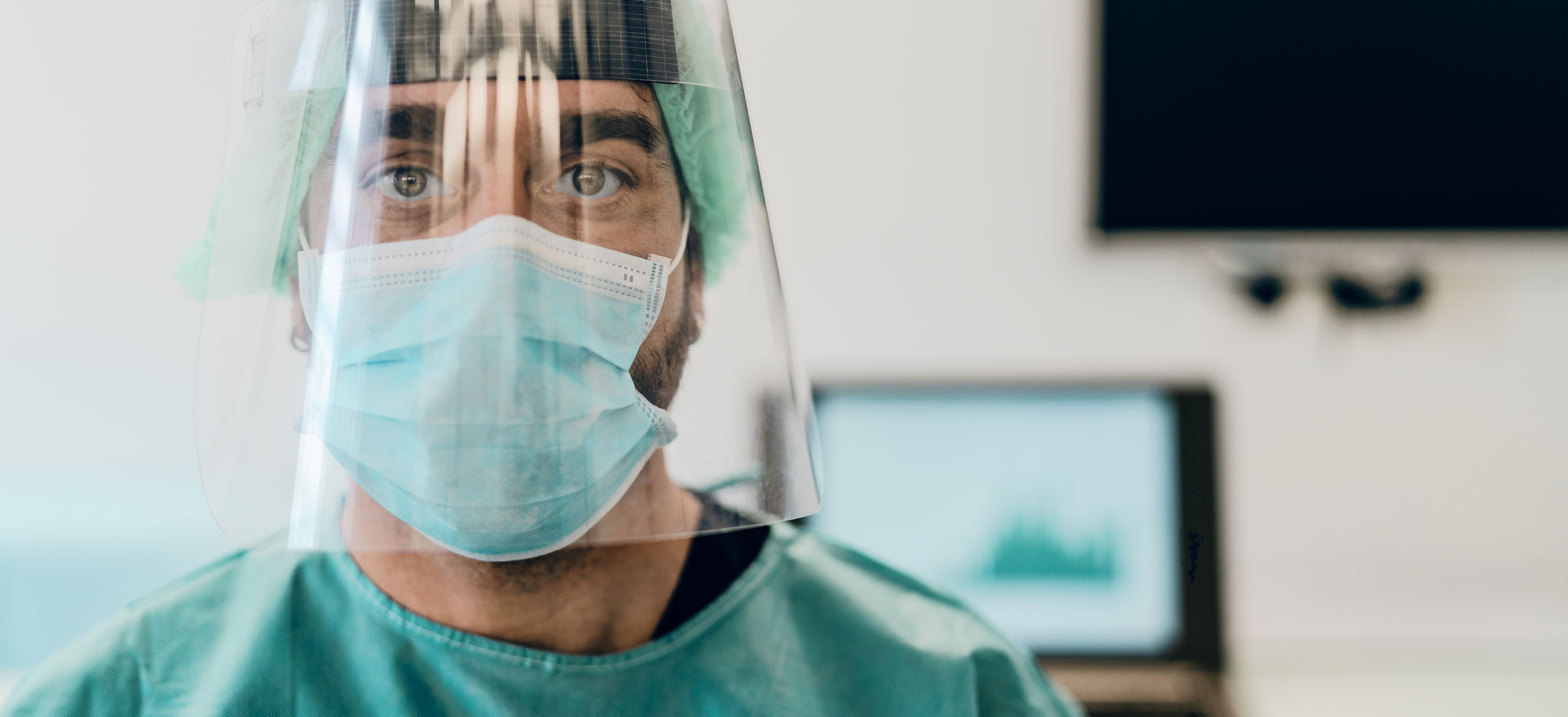 11 Dec

Preventing COVID-19 Transmission in Dentistry (even when there's a vaccine)
Preventing COVID-19 Transmission in Dentistry (even when there's a vaccine)
A FREE online course for Dental Assistants, Hygienists, Staff
The speaker, Luci Perri, will provide dental healthcare workers with information to implement recommended strategies aimed at preventing transmission of COVID-19 in dental healthcare settings. Participation in the interactive exercises requires access to PPE normally worn in the office, access to the surface disinfectants (wipes and sprays) used in the clinic, and a can of shaving cream. One can of shaving cream can be shared among people in the same office, if desired. Ample time will be available for questions. Although the course is free, there is an $11 charge to obtain the 2.0 AGD PACE contact hours.
Date And Time

Tue, January 7, 2020
4:00 PM – 6:00 PM EST
???? Meeting Registration – Zoom ????
After registering, you will receive a Zoom link that will allow you to enter the course. To obtain contact hours, every person in the office must enter their email address. If you cannot attend this infection prevention workshop, we have more courses scheduled in January. Follow us on Eventbrite or LinkedIn for details:
Jan 15th COVID-19 Vaccines: Facts vs. Fears @ 10 AM EST
Jan 19th Dental Sterile Processing Workflow for Patient Safety @ 3 pm EST
"True prevention is not waiting for things to happen; it's preventing things from happening in the first place" – Don McPherson
Join me on 1/7/21 at Preventing Covid-19 Transmission in Dentistry: An Infection Prevention Workshop brought to you by OAI Inc and Infection Control Results.
???? Free Registration ????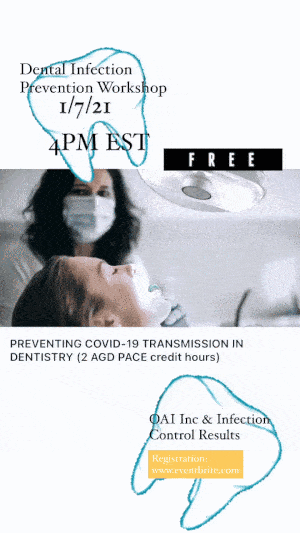 Dental offices whose staff enroll in this course can request free COVID-19 safety training supplies including PPE such as N95s (when available). Just be sure your staff enters the dental office's name in the "Organization" field when they register for the course. Also, please separately email wendy.chan@oaiinc.org to let us know you would like COVID-19 supplies, the names of the staff who will be attending the course, along with the address of the dental office where we can ship the supplies.
If you cannot attend this COVID-19 safety workshop, we will schedule more sessions in January. If you would like us to organize a free customized online course for your dental facility on COVID-19, Infection Control/Prevention strategies, OSHA's Blood Borne Pathogen standard, or any topic related to infectious diseases of concern in your workplace, please email wendy.chan@oaiinc.org.
This event is being sponsored by OAI, Inc. through a grant from the NIEHS (Grant #3U45ES007850-26S1).
Course Objectives
Understand mitigation measures to decrease the risk of transmission to patients, staff and visitors
Successfully don and doff PPE
List the components of an OSHA compliant respiratory protection program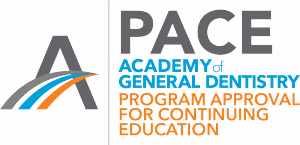 Superior Seminar Solutions (SSS) Nationally Approved PACE Program Provider for FAGD/MAGD credit Approval does not imply acceptance by any regulatory authority or AGD endorsement. 9/1/2015 to 8/31/2023, Provider ID #365798
This activity has been planned and implemented in accordance with the standards of the Academy of General Dentistry.
Program Approval for Continuing Education (Pace) through the joint program provider approval of SSS and Infection Control Results. SSS is approved for awarding FAGD/MAGD credit.
About Luci Perri
Luci Perri is the owner/president of Infection Control Results, a consulting company that is dedicated to reducing the risk of healthcare acquired infections in acute, dental, long-term care, and ambulatory medical settings. Luci has more than 20 years of experience in infection prevention and control. She is a registered nurse with a master's degree in community health nursing and a master's degree in public health from The University of South Carolina. She is Board certified in infection prevention and control. Additionally, she is a Fellow of APIC (Association for Professionals in Infection Control and Epidemiology) which recognizes outstanding achievement in the field. Luci also served in the United States Air Force for 20 years, retiring from military service in 2007. She has held positions managing infection control programs in both military and civilian hospitals where she oversaw multi-faceted infection prevention programs that included over a dozen medical/surgical and dental clinics. Luci will bring her experience with COVID-19 safety protocols and concerns into the classroom.
Luci also holds a Dental Infection Control certificate from the Dale Foundation and was selected by the APIC to revise the Dental Chapter of the APIC Text Online. She has presented at national, local, and virtual conferences with a focus on dental infection control and has published in peer-reviewed journals.