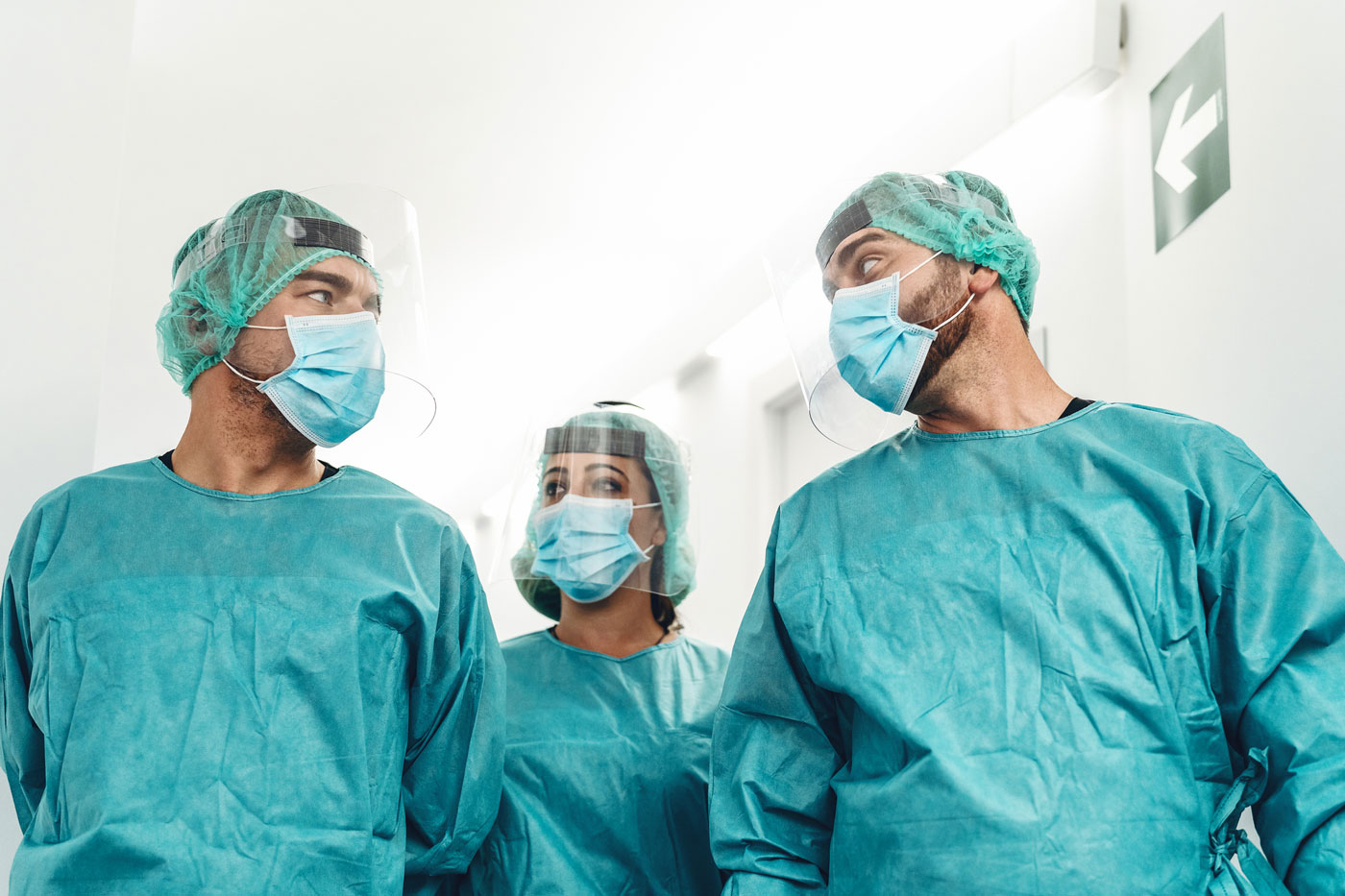 01 Oct

Dental PPE During the COVID-19 Crisis

Over the last several months, the novel Coronavirus (COVID-19) has ravaged countries worldwide. Businesses and service providers across various industries have adjusted their safety practices to protect customers and employees, and dental offices are no exception.

As more and more non-essential businesses open their doors, workers have to prepare to provide services in an at-risk environment. When considering reopening, it's crucial for dental offices to have adequate personal protective equipment, better known as PPE, for all employees.
Center for Disease Control (CDC) Recommendations for Dental Settings
The United States Center for Disease Control released an extensive set of recommendations for dental settings during the pandemic, including PPE use for all dental healthcare personnel (DHCP). The CDC also recommends that dental offices implement the following protective strategies:
Postpone all possible elective surgeries if necessary in your state, or perform a risk assessment to determine the risks to patients and staff of resuming patient services based on the level of COVID-19 transmission in the local community
Implement teledentistry and virtual triage protocols
Screen and triage anyone entering the dental facility for symptoms of COVID-19
Create a process to evaluate patients with positive responses to screening questions (e.g., fever, loss of taste, etc.)
Monitor and manage all DHCP for symptoms of COVID-19
Create a procedure to respond to any potential COVID-19 exposures among patients and DHCP
Implement universal protocols requiring face coverings:

Patients: Patients should only remove face coverings when receiving dental treatment
DHCP: Dental healthcare personnel should wear face coverings at all times in the dental setting

Encourage physical distancing throughout the workplace
Follow strict dental instrument cleaning, sterilization, and disinfection procedures
Consider testing patients without signs or symptoms of COVID-19
Establish contact tracing for all patients
Implement universal use of personal protective equipment (PPE)
While it's impossible to completely stop the spread of the Coronavirus, implementing safety tactics and universal protocols throughout a dental practice can slow down the spread. By utilizing personal protective equipment, dental healthcare professionals can stay safe and minimize infection rates among patients and coworkers.
Utilizing Personal Protective Equipment (PPE) in Dental Settings
Dental healthcare professionals are on the front line of essential workers providing services to patients during the pandemic. DHCP working in dental facilities are at a much higher risk of contracting the COVID-19 virus because DHCP are more likely to encounter asymptomatic carriers.
Due to the vulnerable nature of the job, the CDC recommends that dental healthcare personnel utilize personal protective equipment at all times in the workplace. The essential components of the necessary PPE for dental workers include:
Surgical masks
Eye protection (goggles or face shields)
Gowns or protective clothing
Gloves
N95 respirator masks during aerosol-generating procedures

Wear an N95 for all procedures

When treating or evaluating known or suspected COVID-19 patients
In areas with moderate to substantial COVID-19 transmission as defined by the CDC
Before donning the proper PPE in the workplace, dental professionals must complete training and demonstrate an understanding of the appropriate use and necessity of the equipment. Facilities must ensure the proper cleaning and decontamination of any reusable PPE. All recommended procedures should be followed and maintained throughout the dental facility.
Recommended PPE Maintenance Procedures
The CDC has multiple recommended sequences for wearing, cleaning, and maintaining PPE in dental facilities. Dental practices should follow these stringent guidelines to ensure the health and safety of patients and employees.
Before Entering a Patient Care Area
It is crucial to remember all the proper steps to use PPE properly before entering a patient room or care area. Dental healthcare personnel should wash their hands thoroughly for at least 20 seconds with soap and water to begin.
After the handwashing process is complete, DHCP should don the following items before entering the patient care area:
Clean gowns or protective clothing that covers areas likely to be soiled with bodily fluids
Surgical masks or respirators
Eye protection (goggles or face shields that cover the front and sides of the face)

Safety glasses, side shields on glasses, and trauma glasses do not adequately protect the wearer
Obtain face shields that accommodate loupes, ensuring there aren't any gaps between the head and the face shield, to protect the wearer fully

Clean non-sterile gloves
Once the DHCP has ensured the recommendations and protocols are followed, they can enter the operatory to begin dental procedures.
During Patient Care
While completing dental care on a patient, all DHCP should continue to wear PPE like gloves, face shield or goggles,  and masks to protect themselves from possible contamination. Dental personnel should change gloves when they become excessively soiled or torn.
Under no circumstances should any DHCP remove their face covering during a dental procedure. Surgical masks help to protect the mucous membranes in the mouth from coming in contact with any infectious splatter. However, masks do not protect workers completely from infectious agents, which is why using additional shields is so essential.
Once the procedure is complete, providers can discard disposable gloves and gowns in the proper receptacle and then exit the operatory to discard the remaining PPE properly.
After Dental Procedures Are Complete
After the dental care procedure is complete, service providers should continue to follow the CDC's recommended removal guidelines for dental settings. Once safely out of the patient care area, DHCP should perform adequate handwashing procedures once again.
Only after washing their hands should DHCP carefully remove eye protection and discard surgical masks and respirators. Finally, dental workers should wash their hands one last time to complete the PPE removal process.
PPE Supply Optimization Strategies
Unfortunately, personal protective equipment has been in short supply in the United States during the Coronavirus crisis. Along with its procedural guidelines, the CDC has also provided strategies for PPE supply optimization.
In accordance with OSHA's PPE standards, dental facilities must provide employees with adequate and appropriate PPE. Employees must also receive optimal training and demonstrate their understanding of the use of PPE.  OSHA requires initial fit testing for respirators but has waived the annual fit testing requirement during the pandemic.  However, any time the brand or model of respirator changes, initial fit testing is required.
Dental facilities should understand their PPE utilization rate, assess current PPE inventory levels, and monitor the PPE supply chain. This burn rate calculator, provided by the CDC, offers useful information for healthcare facilities planning their PPE usage. Only reuse PPE during times of extreme shortage.
Protecting Dental Healthcare Personnel
Utilizing PPE in dental facilities protects patient health and the health of essential workers coming into the office every day. To ensure the continued prioritization of health and safety in the workplace, dental facilities should implement and strictly follow set CDC and OSHA guidelines for PPE use in the workplace.
Print flyers or posters around various workspaces in the facility to remind employees of the importance of using PPE and performing personal hygiene tasks like handwashing and social distancing. By continuing to follow protective protocol, dental healthcare personnel can aid in the fight against COVID-19 across the country.